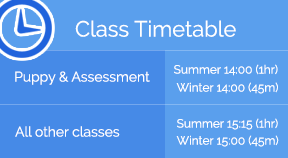 We offer a variety of classes that have been specially designed for dogs and handlers. In a friendly environment we help dogs to learn the traditional obedience commands, and companion dog training lifestyle skills and positions such as sit and stay etc. Throughout this training pet owners and dog handlers will build their relationship with their dog.
At The Altrincham and District Dog Training Society we thoroughly believe that owning a dog should be incredible pleasurable, therefore we teach dog manners in order to help dogs to become more sociable and have a more positive relationship with people and other dogs.
Post-registration, all members will meet with their dogs at Manor Academy in the enclosed area adjacent to the car park for 5-10 minutes. This is for a pre-training session before the classes start, this helps to get the dogs used to the environment so that you can both get the best out of the session.
Book Dog & Puppy Classes in Altrincham
If you're interested in our training classes for dogs and puppies in Altrincham, then please feel free to contact us today.